Caesar F. Zymanek Memorial Scholarship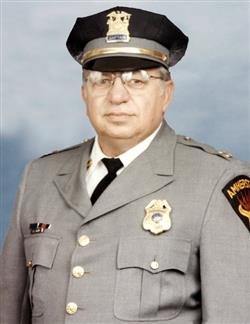 The New York State Eastern Canada Chapter of the FBINAA, dedicates six (6) annual awards to college students, in honor of deceased member Caesar F. Zymanek.
Caesar F. Zymanek was a graduate of the 111th Session of the FBI National Academy and rose to the rank of Captain in the Amherst Police Department where he retired after nearly 30 years of distinguished service. He was Secretary/Treasurer of the NYS/Eastern Canada Chapter for over 21 years, serving the needs of the nearly 2,500 National Academy Graduates.
Caesar was also an ordained Deacon in the Roman Catholic Church, a father of six children, and a devoted husband for over 40 years. This scholarship program in general honors his dedication and effort to the National Academy Associates and humanity.
There will be one recipient selected from each of the three training Divisions, (Albany, Buffalo, NYC), two recipients selected from Canada, and one "at large" recipient selected from all remaining applications. The award, in an amount of $500 is paid after submission of the appropriate documentation from the college/university, with all winners being selected by lottery at the annual Chapter Training Conference.  In the event there is no Chapter Training Conference scheduled by November 22, 2021, the winners will be selected on November 23, 2021, on a live zoom meeting.  The link to the meeting will be posted on the Chapter website and emailed to all applicants. 
Criteria:
Child or Grandchild of Active Chapter Member
Chapter Member Must Be in Good Standing (2 Consecutive Years or More of Dues)
Children or Grandchildren of Deceased Members
(2 Years after Death of Member in Good Standing)
(Lifetime for Line of Duty Death of Member in Good Standing)
Must be Accepted to/or Attending College/University – Attach transcript or commitment letter
Can Apply Annually, Regardless of Prior Selection(s)
All completed applications must be received by November 22, 2021. 
Download Criteria:
Download Application
NYSEC FBINAA Contact:
NYSEC FBINAA Contact:
Zymanek Committee Chair
C/O Brian Gould
bgould@tocny.org