Edward F. Moore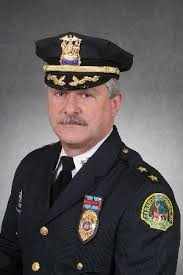 The Chief Edward F. Moore Award for Integrity, Ethics and Professionalism in Law Enforcement was created by the New York State and Eastern Canada Chapter Executive Board at their annual meeting in 2009 at Hamilton, Ontario. It will be awarded annually to a Dues Current National Academy Graduate under the guidelines stated below.
Chief Edward F. Moore served the people of the City of Saratoga Springs faithfully for over 33 years. In the performance of his duties and in his personal life, Chief Moore was known for being a paragon of virtue in his professional life and for his outstanding and demonstrable code of personal ethics and integrity. Chief Moore was a graduate of the 154th Session and was the President of the Chapter in 2004.
To Qualify For The Award:
A candidate must be an FBI National Academy Graduate, active or retired law enforcement status, presently residing within the territorial jurisdictions of the Albany and Buffalo Offices of the FBI and be an active (Dues Current) member of the FBI National Academy Associates New York State/Eastern Canada Chapter. The nominator must also be an active (Dues Current) member of the FBI National Academy Associates, New York State & Eastern Canada Chapter. Nominations will be reviewed by an Award Committee composed of and chaired by non-Board Members.
Criteria For The Award:
The candidate must demonstrate excellence in one or more of the following areas:
Distinguished leadership that emulates the high standards exhibited by Chief Moore acting consistently with the highest integrity and ethics in the spirit of the National Academy's motto of Fidelity, Bravery Integrity.
An innovative act or suggestion which significantly enhances or sustains the ethical conduct of law enforcement, public service, safety or security.
Or an outstanding/heroic act evindencing selflessness in the law enforcement arena.
Correspondences can be emailed to: NYS/EC FBINAA
Francis Smith, Committee Chairperson
inspfs@aol.com