Joseph L. Monteith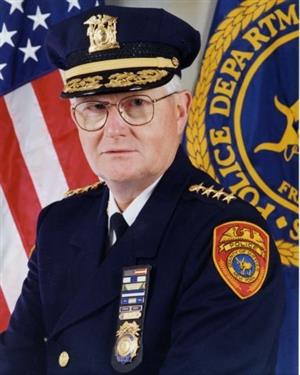 Joseph L. Monteith began his law enforcement career in June of 1961 when he was appointed to the Suffolk County Police Department shortly after receiving his Bachelor of Arts degree in Economics from Manhattan College. He would later (1979) receive a Masters degree in Management from his alma mater.
During the next 39 years, Joe Monteith served in every rank within the SCPD, rising to the highest uniformed rank, Chief of the Department in 1989. Recognized as a natural leader, Joe was nominated in 1975 to attend the 100th Session of the FBI National Academy. In 1995, he attended the 18th Session of the FBI's National Executive Institute. Chief Monteith served on the Executive Board of the New York State and Eastern Canada Chapter (NYSEC) becoming Chapter President in 1990. 
Later elected as the Section IV Representative to the National Board, he advanced through the Chairs, culminating with his Presidency in 1998. While not the first Associate from the New York State and Eastern Canada Chapter to hold the position of President of the National FBINAA, Joe's term was marked by great innovation looking towards the challenges and demands of the approaching 21st Century. Suffice it to say that Chief Monteith is regarded by all of his law enforcement colleagues to be a true professional and a man of marked integrity. He has served and continues to serve on a number of boards of professional and charitable organizations. The quintessential gentleman, Chief Monteith serves as a role model for all graduates of the FBI National Academy.
CRITERIA FOR AWARD:
A law enforcement career marked by dedicated, sustained, meritorious and outstanding contributions to the community in the course of that service.
Within similar parameters, service to the FBI National Academy Associates at all levels. Significant contributions to the NYSEC Chapter would also be considered.
Have conceived and implemented an innovative, forward thinking program, procedure, policy or similar action which resulted in the improved quality or efficacy of law enforcement.
Possesses traits of character that are both inspirational and motivational to law enforcement colleagues and other leaders.
Both nominee and nominator must be "dues current" members of the FBI National Academy Associates, New York State and Eastern Canada Chapter.
Past President William Kiley (Deputy Chief, Retired-SCPD) will serve as the Chairman of this Award: wmkiley@aol.com