Francis M. Pierri
Immediate Past President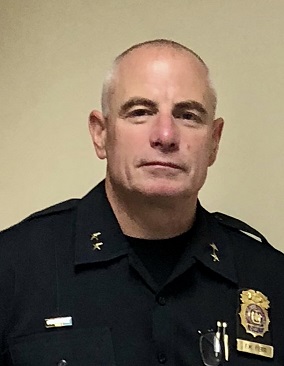 In 1989 Pierri was hired by the Town of New Windsor Police Department and spent 28 years there. During his tenure he was assigned to patrol as well as being promoted to Detective, Patrol Sergeant and First Sergeant.
In 2014 he was assigned as the Police Academy Director and Basic School Coordinator for the Police Chiefs Association of Orange County Police Academy an academy in Zone 4. In addition to the academy role he continued to hold various roles at the New Windsor Police such as the training, facility security, vehicle maintenance and was the Town Wide Safety Officer.
Pierri is a DCJS Master Instructor and can also teach other topics such as Domestic Violence, Mental Health and Physical Fitness.
Chief Francis M Pierri began his career in law enforcement in 1984 when he attended and graduated from the New York City Police Academy. Upon graduation he was assigned to Neighborhood Stabilization Unit #7 in the Bronx. After completing his time in NSU he was granted the precinct of his choice and was assigned to the 48th precinct in the Bronx.
He has numerous awards from the New Windsor Police Department which include being the recipient of two Officer of the Year awards. In addition,he is the recipient of the Frank W Masterson award from the Orange County Mental Health Association for facilitating training of all incoming police recruits in the Crisis Intervention Training course. The first academy to provide such training to recruits.
Pierri has also received the Orange County Family Justice Award from Orange County Safe Homes for the facilitating of training of officers in Domestic Violence.
Pierri retired from New Windsor Police in 2017 & then began his career as the Deputy Police Chief in the Town of Highlands, Orange County, NY. He was then promoted to Chief of Police, and later retired in 2022. He currently co-chairs the Crisis Intervention Committee in the county.
Pierri initially attended St Nicholas of Tolentine High School in the Bronx and upon is family relocating to New Windsor, NY he attended and graduated from Newburgh Free Academy in 1980.
Pierri has a Master Degree in Public Administration with a concentration in Ethics and Leadership from Marist College graduating summa cum laude, a Bachelor Degree from Mercy College in Criminal Justice and an Associate Degree from Rockland Community College in Criminal Justice.
He is a graduate of the 238th session of the FBI National academy. He has also attended the Mid-Atlantic Law Enforcement Executive Development Seminar in Princeton, New Jersey.
In his spare time, he is an active volunteer firefighter with the Vails Gate Fire Department in New Windsor, New York with over 41 years of service. He served as Fire Chief from 1992-1994 and currently is on the Board of Fire Commissioners.
His wife Lesley is a retired detective for the New Windsor Police and an adjunct criminal justice instructor at Orange County Community College. His son Frank is a Detective with the New Windsor Police Department. His daughter Rebecca is an ER Tech/Phlebotomist at an Orange County hospital.
---
Anthony J. Raganella
President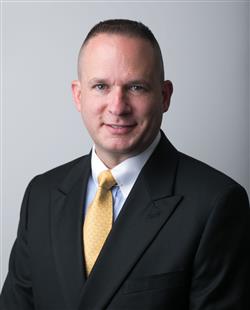 Anthony J. Raganella is a retired 25-year decorated New York City Police Department Deputy Inspector and graduate of the 223rd Session of the FBI National Academy. Currently, he is the founder and president of NY Blue Line Consulting Group, which provides law enforcement training and consulting services nationwide.
While at the NYPD, Anthony spent 8 years as the Commanding Officer of the Disorder Control Unit, a citywide department unit responsible for planning, assessing and ensuring the Department's training and readiness in crowd management and disorder control operations for civil unrest, as well as major events, emergencies, and protests. As Commander of that unit, Anthony regularly developed policy, as well as evaluated and implemented training, equipment and best practices related to crowd management & control. He is considered a subject matter expert on matters related to protests and civil unrest and regularly trains, consults and testifies on such matters.
Anthony has completed his Master Degree in Public Administration, summa cum laude, from Marist College; a Bachelor of Science Degree in Behavioral Science, summa cum laude, from New York Institute of Technology; an Associate of Science Degree in Criminal Justice, summa cum laude, from Nassau Community College, as well as being a graduate of the 24th Session of Columbia University's Police Management Institute, and the 223rd Session of the FBI National Academy. Additionally, Anthony is the author of several published peer-reviewed journal articles and text book chapter supplements in the field of criminal justice.
In addition to his consulting firm, Anthony co-founded Rising Star Promotions, an educational tutorial service focused on supplementing and supporting studies of officers seeking elevation through promotional exams.
Although Anthony has dedicated his professional life to law enforcement, he hasn't limited himself to just police work. Anthony is also active in many organizations and organizing fundraising events to support various causes, such as his high school alma mater's alumni association – La Salle Military Academy – where he sits on the Board of Governors.
Anthony is an avid automobile enthusiast and tournament poker player, and resides on Long Island with his wife and son.
---
Brian J. Gould
1st Vice-President
Brian Gould is the Chief of the Cheektowaga Police Department, a first ring suburb of the City of Buffalo, NY. Chief Gould stated with the department as a Public Safety Dispatcher in 1997 and became a sworn police officer in 2000. While moving up through the ranks, Chief Gould became active in improving the department's response to those in mental health crisis. In 2013, under Chief Gould's leadership, the department developed Western NY's first Crisis Intervention Team. Since then, over 600 officers from various departments have been trained in CIT. Chief Gould is also involved in instructing police officers from across New York in Crisis Intervention as part of the NYS Senate Initiative to expand CIT and has written opinions in cases as a police mental health expert witness. Chief Gould also developed a response after overdose program to link those with opiate addictions to treatment providers in the community. This program has been expanded across the region as well as other states. Chief Gould has a Master's of Science Degree from Hilbert College and is a graduate of the 250th Session of the FBI National Academy.
---
John Rowan
2nd Vice-President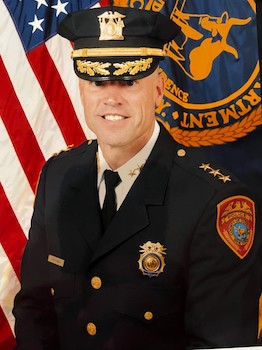 John Rowan joined the Suffolk County Police Department in 1993 and is currently the Chief of Detectives. During his career, he has held various supervisory roles including Commanding Officer of the 3rd Precinct from 2018-2022 and Commanding Officer Major Crimes Bureau, where he oversaw Homicide, Major Case, Special Victims and Hate Crimes from 2017-2018. He was also tasked during that time as the primary liaison with the Federal agencies assigned to work MS 13 murders. He travelled to El Salvador in January 2018 and was recognized by Homeland Security for his participation in Operation Matador, a joint task force investigating MS 13. He also served as a Captain in Internal Affairs and was the Commanding Officer of the First Squad Detectives where he held the rank of Detective Lieutenant.
John holds a Master's Degree in Criminal Justice Leadership from St. John's University with the distinction of Certificate of Excellence. His Bachelor of Arts degree was earned in 1991 from the University of Delaware where he was a member of the NCAA lacrosse team.
John attended the 236th Session of the National Academy and has been involved with the planning of the Nassau/Suffolk Luncheon and Bart Hose Shoot ever since. In 2019, John was recognized with the Chapter's Bart Hose Award for Excellence.
John resides on Long Island with his wife and they have two grown children.
---
Theresa Tobin
3rd Vice-President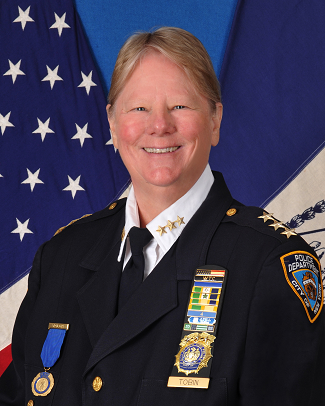 Chief of Interagency Operations Theresa Tobin joined the NYPD in 1983 and began her career on patrol in South Jamaica, Queens.  She was promoted through the ranks to her current title of Chief of Interagency Operations.  Chief Tobin has served as the Commanding Officer of the Behavioral Health Division, the Office of Collaborative Policing and Personnel Bureau's Staff Services Section.  She has served as the Executive Officer of the 1st, 10th and 13th Precincts.
Chief Tobin earned a Ph.D. and Master of Arts degree in Criminal Justice; a Master of Social Work; and a Bachelor of Science degree in Sociology/Social Work. She has been a New York State Certified Social Worker since 1985. Chief Tobin is also a graduate of the FBI National Academy, the Columbia University's Police Management Institute; and, Harvard University's Senior Executives in State and Local Government Program. 
During her career, Chief Tobin has received numerous honors and medals including and the NYPD's Medal of Valor and a Special Congressional Recognition in honor of her heroism, bravery and sacrifice during the tumultuous events of September 11, 2001.
---
David Brown
Sergeant at Arms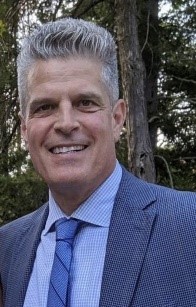 David retired after 31 years with Durham Regional Police as Superintendent of Serious & Organized Crime in 2020. David served in the Drug Enforcement Unit, Provincial Outlaw Motorcycle Gang Enforcement Team, Intelligence, the Duty Office and led the Public Order Unit.
He has been an active member of the NYS/EC Chapter since graduating with Session 255 in 2014. Prior to being elected to the Executive Board, David served on our Board of Governors. David looks after our Instagram and Twitter accounts so please forward anything you want posted to 493dbrown@gmail.com
Currently, David is a Senior Investigator and Business Development consultant with Investigative Solutions Network in the GTA.
---
Paul A. Sandy
Secretary/Treasurer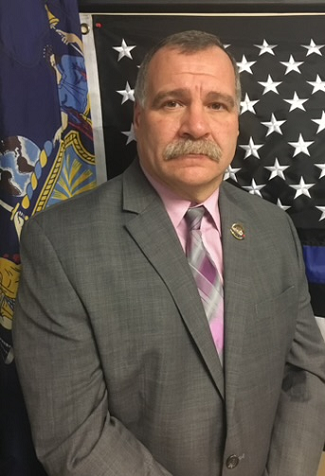 Deputy Chief Paul Sandy was appointed as a Patrolman for the City of Cortland Police Department on November 19, 1985, where he later became one of the founding members of the department's Tactical Response Unit and later initiated the Bicycle Patrol. DC Sandy was promoted to the rank of Uniform Sergeant in 1993 and then reassigned to the Detective Bureau in 1995, as a member of the Cortland County Drug Task Force. He remained in the Detective Bureau until his promotion to Detective Lieutenant in 2003, where he became the agency's Public Information Officer and Field Information Officer within Counter Terrorism Zone 6. On August 28, 2009, he was promoted to Deputy Chief. Throughout his law enforcement career DC Sandy has received a number of awards, letters, and commendations from local, state, and federal agencies., including 2001 Lawman of the Year award and BSA Citizen of the Year for 2019.
Paul has been a lifelong resident of Cortland County. He graduated in 1980 from McGraw Central School and attended Oswego State University, where he received his BA in Criminal Justice, with a Minor in Forensic Science, in 1984. Later, he received his Master Degree in Labor Policy Studies in 2002 from SUNY Empire State College. In 2005, Deputy Chief Sandy graduated the 220thSession of the FBI National Academy in Quantico, Virginia.
Paul has been a lifelong resident of Cortland County. He graduated in 1980 from McGraw Central School and attended Oswego State University, where he received his BA in Criminal Justice, with a Minor in Forensic Science, in 1984. Later, he received his Master Degree in Labor Policy Studies in 2002 from SUNY Empire State College. In 2005, Deputy Chief Sandy graduated the 220thSession of the FBI National Academy in Quantico, Virginia.
The Deputy Chief is a member of the FBINAA, where he has held various positions on the Executive Board of the New York/Eastern Canada Chapter since his graduation from Quantico, including President in 2013 and he is currently the Secretary/Treasurer for the organization.. He remains very active with chapter business and was one of the Co-Chairs for the 2018 FBINAA National Conference in Quebec City, Canada. Currently, he is the Section IV representative for the FBINAA National Youth Leadership Program and one of the Co-Chairs of Counter Terrorism Zone 6, which covers several counties in NYS. He is also a member of the International Association of Arson Investigators and Past President of the Blue Knights International motorcycle club, New York Chapter XXIX. DC Sandy is a member of both the New York State Association of Chiefs of Police and International Association of Chief's of Police.
Deputy Chief Sandy is also a former member of the Board of Directors for 7 Valley Council on Alcohol and Substance Abuse, Board of Directors for Catholic Charities as well as a past Adjunct Instructor at Tompkins Cortland Community College, where he taught Criminal Investigations and Criminology for several years. In 2018, Deputy Chief Sandy was one of the founders of the Cortland 9/11Memorial Foundation, which erected a memorial in Courthouse Park to honor those who sacrificed on 09/11/2001.
Paul enjoys spending time with his wife, Susan, and two sons, Kyle and Cody.
Kyle is a police officer with Cornell University Police and Cody is a county police officer with the Cortland County Sheriff Department.
---
Joseph Gannon
Historian
Joseph J. Gannon was born and raised in the Bronx, New York;  received his B.A. from Fordham University in 1966. Within two weeks, he was appointed to the New York City Police Department being the third generation in his family to so serve. He was initially assigned to the Tactical Patrol Force later transferred to the Detective Division serving in multiple commands including the Narcotics Bureau, a general crimes investigator in the Detective Squad covering Times Square, the Theater and Hotel Districts; and 11 years in the Special Frauds Squad. This required investigating complex financial crimes and losses of negotiable securities from Wall Street on a citywide basis. It was during the course of that assignment that he was nominated to the National Academy and graduated from the 126th Session in the summer of 1981.
A number of events followed which resulted in his retirement to assume a position in the Global Security Department of American Express Comapny, eventually becoming Director-Investigations, North America. Invited back to the Academy in 1982, he served as an instructor at Quantico in White Collar Crimes in 1982 through 2002. That role expanded to teaching not only the National Academy, but various FBI Schools including New Agents' Enrichment Sessions; In Services for White Collar Crime Supervisors both at Quantico and Xerox (Leesburg); the Southern Police Institute, the Criminal Investigations Course and Crime Prevention Schools as well as NYPD Homicide Investigations School.
In addition, he enjoyed a regular block at the Youth Leadership Program on "Ethics, Integrity and Decision Making". His duties at American Express took him all over the world including Western Europe, the UK, Moscow and Tokyo with long term assignments in Miami, Vancouver (BC) and Los Angeles. He retired after 29 year's service, but remains a contractor with his former employer. Joe served on the Chapter Executive Board in various positions, culminating as Chapter President in 2011. Having just celebrated his 50th Wedding Anniversary in 2017, Joe is the proud Grandfather of two sets of twins who now regularly attend Retrainers, both at the Chapter and National venues. Their Dad has followed the family tradition and after serving in multiple New York State investigative agencies for over a dozen years (OCTF, Inspector General and Insurance Frauds Bureau) is a senior Postal Inspector in the New York Division for the past decade while Mom is a school teacher in the New York City school system.