NYPD TEDDY ROOSEVELT INSPIRATIONAL LEADERSHIP AWARD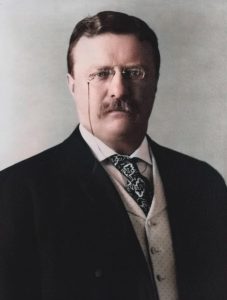 In 2022, the New York State/Eastern Canada Chapter of the FBI National Academy Associates
established the NYPD Teddy Roosevelt Inspirational Leadership Award to honor Theodore Roosevelt's
distinguished service as President of the Board of Police Commissioners of New York City from 1895 to
1897, as well as his enduring admiration for the police.
Most often remembered for his United States Presidency from 1901 to 1909, Theodore Roosevelt
was previously the President of the New York City Police Commission from 1895 to 1897 and rose in
influence and prominence throughout his lifetime. Roosevelt also served as Assistant Secretary of the
Navy and Governor of New York.
Roosevelt's boldest actions came in natural resources. At his urging, Congress created the Forest Service in 1905, to manage government-owned forest reserves, and he appointed a fellow conservationist, Gifford Pinchot, to head the agency. Simultaneously, Roosevelt exercised existing presidential authority to designate public lands as national forests to make them off-limits to commercial exploitation of lumber, minerals, and waterpower. Roosevelt set aside almost five times as much land as all of his predecessors combined 194 million acres. In commemoration of Roosevelt's dedication to conservation, Theodore Roosevelt National Park in North Dakota and Theodore Roosevelt Island in Washington, D.C., a 91-acre wooded island in the Potomac River, were named in his honor.
Theodore Roosevelt was known for being able to maintain a connection with his people and being able to communicate with them. He believed that he had a unique relationship with and responsibility to the people. Roosevelt was not afraid to challenge prevailing notions and served as an agent of reform for the people through his decisive actions. He had an exceptional ability to convey his vision and communicate with others, as well as being a charismatic transformational leader who developed others and possessed a heartfelt loyalty to those on his team.
TO QUALIFY FOR THE AWARD:
Nominees must be:
A dues current member of the FBI National Academy Associates, New York State/Eastern Canada Chapter residing within the area of its NYC Division, AND;
Nominated by a dues-current member of the New York State/Eastern Canada Chapter (from any division), AND;
Nominees may be active or retired law enforcement and must meet the following criteria:

Nominee should be known by the general membership through his/her active participation at Chapter events, AND;
Embodies high moral character and demonstrates exemplary leadership in law enforcement, AND;
Cultivates relationships with colleagues by communicating a vision and appealing to their values, AND;
Possesses traits of character that are both inspirational and motivational to law enforcement colleagues, AND;
Generates an innovative act or reform suggestion which significantly furthers the ends of improving law enforcement, the FBI NAA, and/or the community, OR;
A law enforcement career marked by dedicated, sustained, meritorious and outstanding contributions as a change agent for the betterment of the policing profession.
PLEASE FORWARD ALL SUBMISSIONS FOR THIS AWARD TO CHIEF THERESA TOBIN AT
THERESA.TOBIN@NYPD.ORG BY APRIL 8th, 2022.
This award will be presented at the NYPD Roosevelt in 2022.